The flaming sounds of fury and rage,
Thundered through the stillness of the sleepy dawn,
I dared not move my little frame in fear of the impending rampage,
Beweeping softly my direful fate as the latest pawn.
I could not understand why I had to hide,
As I huddled against my little baby brother,
My heart pounding in fear not knowing what would betide,
Seeking child-like solace in the arms of each other.
Day after day, night after night,
The sounds grew louder and louder,
I quivered and shuddered at my forlorn plight,
As I heaved in the rancid stench of gun powder.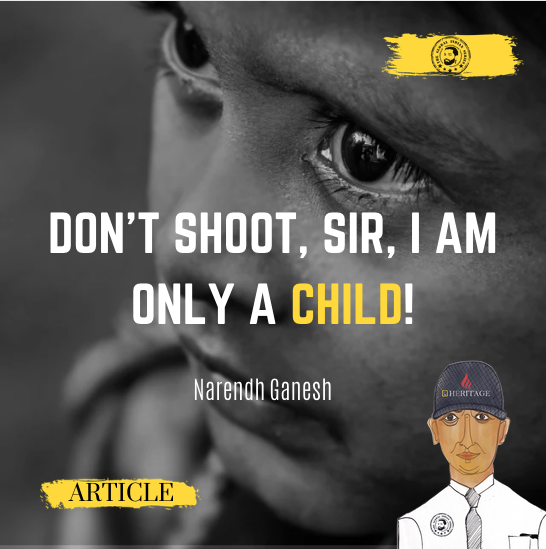 All about lay in desolate smoulder,
With palls and palls of char-like smoke,
Billowing through the air that became so much colder,
I sniffed silently grinding back a nasty choke.
A bang, a thud, a crash,
He appeared suddenly like a giant apparition,
Burning eyes glaring and jaws priming to gnash,
Ready for his final demolition.
He aimed his loaded rifle,
Pointing menacingly at what was imminently to be defiled
I uttered in meekness for his act to stifle
Don't shoot Sir, I am only a child!
Story By: Narendh Ganesh
First Published on Global Indian Series
---
← Go back